OCEAN LARIAT NECKLACE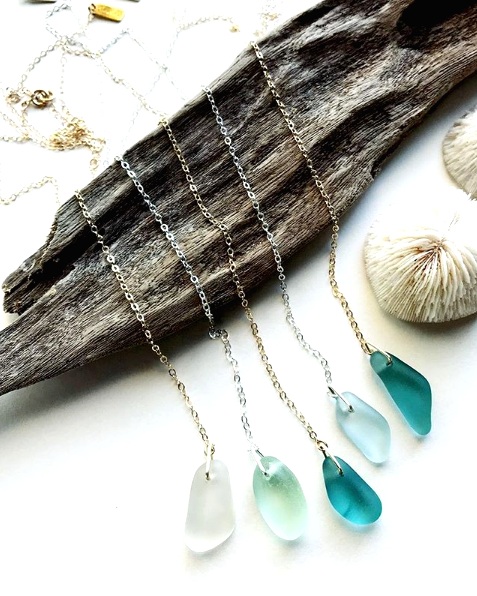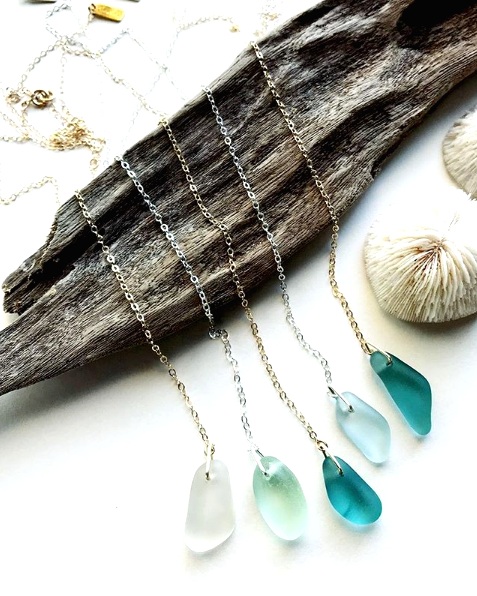 OCEAN LARIAT NECKLACE
Beautiful Ocean Lariat Necklaces with surf-tumbled sea glass pendants in all the perfect ocean shades! Our "SEA LOVE" jewelry tag is attached on a 3-inch extender for an extra pretty back view and allows you to extend the length of the piece. Dress this statement piece up or down for elegant beach style anywhere!
Neck Chain is 16" with 4" drop and a 3" extender on the back. Available in 14K Gold Fill or Sterling Silver.
Approximate Sea Glass Pendant Sizes: 1/2"- 1" in length with varying widths and thickness - each piece is one-of-a-kind and vintage or antique glass.
Choose your sea glass color from the drop down menu + your metal choice from the pop-up form after adding to cart.
Each piece is handmade with the Spirit of Aloha and beautifully packaged in sea-themed linen bags. Ships within one week.
Sea Glass Colors:
Beach Whites: pure whites
Light Blue Seafoams: all light blue shades
Light Aquas: all light green shades
Turquoise/Teals: all shades of turquoise and teals
>>>>>>>>>>>
Handmade from found objects naturally recycled by Mother Ocean. We use only high quality, genuine surf-tumbled sea glass (never machine altered) we find personally or source from trusted vendors.
Genuine surf-tumbled sea glass tumbles in the ocean for decades (sometimes centuries) and is considered a "rare" found object. Most pieces are vintage or antique depending on the age of the glass. The value of genuine sea glass varies based on color rarity, size, quality, thickness, and age. Our prices vary accordingly.
Sea glass is known to symbolize the magic of healing and transformation. It has a zen-like quality as the ocean plays catalyst with each piece of broken glass, like turning base metal into gold....(for more see The Alchemy of Sea Glass )
Mahalo for shopping handmade and supporting small business!